More products in this category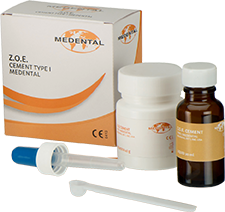 MEDENTAL Zoe I is an improved zinc oxide-eugenol cement for temporary cementation and filling. Recommended for temporary fillings and cementation.
May be used as a sedative base under metallic restorations.
High tensile and compressive strength.
The setting time range is from 3 to 5 minutes.
Protects the pulp from thermal shock and possible irritation from freshly mixed cements.
40 gr. Powder
20 ml. Liquid
Dropper
Dispensing spoon
If you want more information, fill out the form.