More products in this category
LIGHT CURE ORTHODONTIC ADHESIVE SYSTEM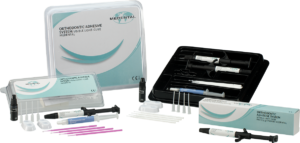 Fixing of metal ceramic and plastic brackets to enamel.
Light curing.
Fluoride releasing.
Excellent properties for bonding ceramics, metal and plastic brackets to teeth.
Perfect viscosity enabling bracket positioning before fixing.
Eliminates bracket floatation and allows easy cleaning.
Easy removal and replacement of brackets without damage to enamel.
5 gr. Paste
3 ml. Primer
2 ml. Etch gel
2 x 3.5 gr. Paste
3 ml. Bond
2 ml. Etch gel
If you want more information, fill out the form.