More products in this category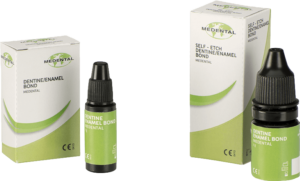 For all kind of restorations and cementations with composite and compomers
Very high shear for all light self-cure restorative materials.
Easy and time saving application; Etching, priming and bonding in one step only.
No need for etching.
No need for shaking or mixing.
Short working time facilitates treatment of young patients.
One coat only.
No post operative sensitivity.
Reliable depth of demineralization.
Long lasting restorations.
Compatible with all prevalent products.
If you want more information, fill out the form.